Be a Great Tutor - Now in Paperback!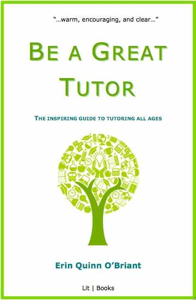 "...warm, encouraging, and clear..."


Praise for Be a Great Tutor:
"[F]ull of inspiring stories, ideas, and genuine help…. I plan on using these teachings techniques in my future work. [Be a Great Tutor] is a valuable book for tutors and teachers at a time when creative teaching and education is so important."
Dorothy Dyer, MA Architecture, University of New Mexico; MA Education, Harvard University


"Be a Great Tutor is as warm, encouraging, and clear in its advice as one would hope a tutor to be. I recommend this book for seasoned classroom teachers as well as for tutors who are just starting out. It offers gems for all levels of experience."
Susan Gold, MA, high school teacher
---
Take your skills from good to great with Be a Great Tutor, the inspiring guide to tutoring all ages.
Enjoyable to read and easy to understand, Be a Great Tutor leads both beginning and experienced tutors step-by-step to more successful sessions.
Erin Quinn O'Briant, MFA, editor of www.Tutoring-Expert.com, explains three fundamentals of tutoring. With major contributions from award-winning education nonprofit leader Christopher Balme, O'Briant guides readers through applying these skills in reading, math, writing, test preparation, and study skills.
Other chapters include working with student groups, e-tutoring, building a successful independent tutoring business, and managing the interpersonal side of the job. Inspiring examples of success stories throughout the book make the student-centered principles behind Be a Great Tutor clear and easy to apply.
For both independent tutors and those in a school or nonprofit, Be a Great Tutor is a must-have resource.

Buy your copy of Be a Great Tutor in paperback or Kindle
---
(Click to learn about Be a Great Tutor in PDF format)
---