Starting a Tutoring Business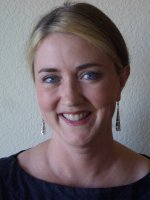 Interested in starting a tutoring business?
You don't need to earn a living from tutoring to call yourself a tutor -- just think of all the parents, classroom teachers, peer tutors and others who are tutoring -- but many people do earn part or all of their income from independent tutoring.
Many others work for a tutoring agency and act semi-independently, receiving students from the agency and sharing their hourly wage with the agency as well.
Erin (pictured here) and Chris built their own independent tutoring practice, finding students and maintaining relationships with schools and other referral sources.
If you're interested in going that route--starting a tutoring business--this page is for you: how to make tutoring your livelihood. Here's to your success starting a tutoring business!
Step 1:
Is Starting a Tutoring Business Right For Me?
So you want to know more about starting a tutoring business? Great idea.
Working as an independent tutor has its perks: you can establish your own schedule, you receive 100% of the hourly tutoring rate, and often, that rate compares favorably with other part-time work you might find. In some major US cities, rates for well-known tutors can be very high, on a par with hourly fees charged by lawyers, accountants and other skilled hourly professionals.
Of course, starting a tutoring business successfully all depends on presenting yourself well, talking to the right people, and building a stable base of students.
Here's our pro and con list:
PROs of starting a tutoring business
• Flexible scheduling
• High hourly rate
• Satisfaction of working one-on-one and seeing your students overcome challenges
• Compatibility with other work or life responsibilities (for example, with being a parent)
CONs of starting a tutoring business
• Unpredictable income, which drops during school breaks, when students graduate or stop tutoring, etc.
• You have to manage and pay for all the things a business would cover for you: In the US, that means health plans, taxes, retirement benefits, and savings to cover sick days and vacations
• Sessions tend to be on evenings and weekends, making you busy when your friends and family are likely to be free
• It can take some time to build a stable base of students when you're starting a tutoring business; in the meantime, you may not earn much
• You may need to provide your own transportation among students' homes
Still like the idea of starting a tutoring business? Read on and we'll help you get started. If you're more interested in a franchise, visit this page.
Step 2: Who, What, When, Where?
Key questions for starting a tutoring business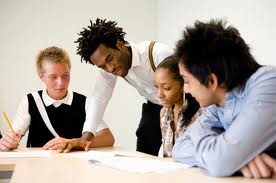 So you've decided to become an independent tutor -- congratulations! Your next step is to gather the basic information that will help you decide where to focus and how to present yourself as you're starting a tutoring business. First, we need to get some details:
• What ages of students do you have experience in working with, and what ages do you think you'll be able to work with successfully? Be sure to define this specifically -- if you tell someone that you can teach all ages, they may be skeptical unless you've had that specific experience.
• What subjects are you able to tutor? Don't forget areas like organizational help and study skills, which are often in high demand.
• Where will the tutoring take place? Many tutors travel to students' homes, but others meet in libraries or schools. Erin and Chris have done a little of each, but found that parents strongly prefer tutors who can travel to the home in the after-school, evening or weekend hours. If so, how far are you willing to travel? Most tutors do not charge for their transportation time, so this could be a significant factor.
• When are you available to tutor? Can you commit to being available at that same time every week for most of the semester or school year?
As you gather that information, consider writing it up into a Basic Service Sheet that describes the tutoring services you offer.
Now there is just one other big question: how much will you charge?
To answer that, a little investigation is required:
1. If you have any friends who are tutors, ask them for their rates. How did they come up with that number when they were starting a tutoring business? What experience, age focus or subject expertise do they have?
2. Figure out where other tutors in your community advertise, and see what rates they suggest -- as we'll discuss later, that could mean parents groups, schools, websites and online community "bulletin boards," or local newspapers. Try to gather an informal survey of typical rates based on these sources.
3. Ask a few parents or teachers you know what they would suggest as a typical rate; if they're not sure, try a few numbers on them. Don't sell yourself short! In many areas, tutors are in high demand, and people are often willing to pay a significant amount for your one-on-one help.
4. Think through your qualifications. If you have, say, a master's degree in Chemistry, you can probably charge more for science tutoring than someone who doesn't. If you don't have an advanced degree in a subject, but you did well in it in school and can convincingly demonstrate expertise, you may be able to charge almost as much as someone who does have the degree.
5. Demand for special skills is a factor, too. Highly qualified math and science tutors are often in great demand, as are tutors who specialize in standardized test and college entrance preparation. There are specific niches where many people may want skilled tutors and be willing to pay for them--for example, English as a Second Language tutoring may be in great demand among the families of foreign diplomats or business people.
6. Parents or adult students may ask you if your rate changes for longer sessions, or if there are two or more students involved in the session. Include this in your informal survey, and see how other tutors in the area address this. Chris and Erin offered a small discount for longer sessions (90 minutes), because they felt this offers the chance to help each student more, and also reduced their transportation time. For additional students, they charged an additional hourly fee of about 25% more per student because of the extra preparation needed.
7. Bear in mind that your rate covers more than just the hour you spend with the student. Calculate all your time and expenses, and make sure your fee covers them. Talking to parents and teachers, preparing for lessons, and getting from one student's house to the next can take up a lot of time, so remember that your hourly fee covers all those parts of tutoring. Also, keep in mind that your hourly rate has to make up for those days when students are sick, or on vacation, or when you're on vacation, so even if it seems like you would earn a lot during a full week of tutoring, remember that you have to store some of your hourly earnings for those rainy days. And don't forget: you'll have to pay taxes, too.
8. You might want to offer different rates depending on the location. You could charge one hourly fee for student who comes to you and an additional fee for your travel time if you go to them. If you charge for travel, don't base the fee on mileage--rush hour traffic, which is when you're likely to be traveling between students, can make time much more significant than miles travelled.
9. For more specific rate information, visit my page on tutoring rates and tips for tutors on tutoring jobs.


Step 3: How do I present myself?
You probably hear all the time about the importance of presenting yourself in a "professional" way, but what exactly does that mean? In your materials, it means well-written, well-designed documents that show people you've thought carefully about how your tutoring service will function and have anticiapted their most common questions. We'll help you create these in a moment.
In person, being "professional" as a tutor means showing that you are friendly, focused, and skilled in your subject area, able to answer questions directly and calmly, and confident in your abilities. You don't need to wear a suit for tutoring, but you should look neat and well-groomed. Highly fashionable or revealing clothes will only be a distraction, so save those for Saturday night. And, of course, arrive on time with your cell phone turned off.
Let's start with the materials you'll need:
1) A well-written resume describing your academic background, education-related experience, and ideally some academic accomplishments or areas of strength.
2) A business card with your name and relevant contact information, and perhaps your specialties as a tutor. These can often be printed very cheaply through online services.
3) A Reference Document, listing at least 3 references, each of whom have agreed to act as a reference for you. Write a sentence describing the context in which you've known the reference (for example, "John was my supervisor at O'Briant Test Prep, where we worked together to prepare students for college entrance exams"), and include their contact information, preferably a phone number. Ideally at least 2 of these references will be in an education-related field, but if not they can be "character references" or references from other employers.
4) Basic Information Sheet: As described above, this includes your rates, how far you will travel and when you are willing to be available, and your areas of focus or expertise. Remember that saying you cover all subjects in all ages is unlikely, and parents will recognize that! You might say something like: "Focus on math and science-related areas, with experience working with grades 6-12."
5) Sample Contract: This describes what you offer and what your expectations are, in terms of rates, prompt payment, advance notice of cancellations, coverage of extra costs for books and other materials, etc.
---
Presenting Yourself Online
An excellent additional way to present yourself, and to impress your potential clients, is to create a website. This can be as simple as a site with your name, perhaps a photograph, and your resume, basic information sheet, and sample contract. You may want to list references there as well, but keep in mind that your references may not want their phone numbers to be publicly listed online (in that case, simply say "Contact information happily provided upon request). Make sure your website does list your contact information, though, including an email address that you check regularly, and make sure to list it on your business card and resume.
---
Step 4: Finding Clients & Spreading the Word
So you've identified your focus areas and developed the materials to present yourself well -- now it's time to find your students! Here is a simple process for starting a tutoring business that has worked well for Chris, Erin, and thousands of other tutors:
Begin with your friends and family. Let them know you're starting a tutoring business. They know and trust you, and may be able to refer you to their own networks of friends. Make sure to provide them with a supply of your business cards to share with friends, and ask them to let you know whenever a friend indicates interest. It's worth calling that person to follow-up and see if they are interested, as soon as you hear about it. When you ask anyone for advice, whether they have any or not, make sure to ask them if there is anyone they recommend speaking with for more advice or referrals. Sooner or later, you'll find someone who can be of great help.
Introduce yourself to the people who are with students every day: guidance counselors, learning specialists, teachers, school administrators, youth program leaders, babysitters, speech therapists, etc. If you know any people personally who have these professions, begin with them. Otherwise, try calling local schools, public and private. Describe briefly that you are a private tutor who is starting a tutoring business, and ask if you could drop by to introduce yourself and leave some materials. At most schools, especially if you can get through to a counselor or learning specialist, dropping off your materials is not too much to ask. Some may never call you, but if you can meet someone there and make even a small personal connection, you never know when they may refer a student to you. If you do make a personal contact there, be sure to send them a thank-you note for their time, and follow-up with them after 3-4 weeks to see if any students have come along who might benefit from your tutoring. Starting a tutoring business is a good opportunity to make professional connections in your area.
If you're interested in tutoring college and graduate school students, call local schools and ask if you may post flyers on campus; many will allow it. Almost every college has tutoring programs, so find the faculty member in charge of those programs and ask if you could drop off your materials to him or her. Especially at public schools, the tutoring programs tend to be in great demand and may welcome a person who is starting a tutoring business and is willing to take their referrals.
Post information about yourself on bulletin boards (for example at the library, local coffeeshops, schools, etc), with parent groups (online or in-person groups), with online bulletin boards, and at any other place in your community where you can imagine parents, teachers or students might look for help. You may want to consider placing a small paid notice in the newspaper or other local publication.
Look for tutor referral networks or companies; in some cities there are agencies that match students to tutors for a fee, or that take a portion of the family's payment and pay you the rest for any students they match with you. Try an online search to see if any such companies are in your area. While they may not provide as much income for you, they can be a great way to get going starting a tutoring business of your own and begin building your experience and contacts.
With all of these techniques, your patience and dedication will make all the difference in starting a tutoring business successfully. Don't count on any one contact to produce referrals -- make sure you speak with many people about your services, post information everywhere you can think of, and speak with many local schools. Perhaps only 1 in 10 will provide a referral, but each referral could turn into a family you work with for years, or better yet, a family that begins to refer their friends to you.
As Chris and Erin found, once you have stable, positive relationships with a few families, they will begin suggesting your name to friends, and after some time of this you may even have a waiting list for your services! Just remember that it can take months to build your initial base of families. Be patient when starting a tutoring business and make sure to have a financial backup plan in case the start-up process goes a little slower than you anticipate. But with perseverance, you will eventually find the right contacts, starting a tutoring business that flourishes!
Buy BE A GREAT TUTOR for the next 2 steps, plus 175 pages full of friendly, expert advice.
Now available in paperback or Kindle. Download a free Kindle chapter here.
---
Tutoring franchises can be an excellent investment. I've compiled some information to get you started.

An interesting press release on the growing franchise market in child services.

Return from Starting a Tutoring Business to Tips for Tutors