Kaplan Test Prep Options
Kaplan Test Prep can help with all kinds of standardized tests, and they claim to be the world leader in the subject. They offer individual sessions, but you're likely to get a better deal on a class or package offer.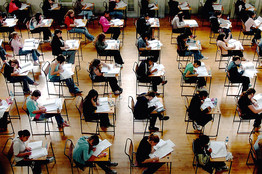 Here's the center's current list of test subjects:
Graduate Admissions
College Admissions
Medical Licensing
Nursing
Other Health Sciences
Bar Review
English Language
High School Admissions
Accounting
Financial Services
Real Estate
Securities
Insurance
Information Technology
And there may be more. Contact a Kaplan center in your area to find out what may be offered there or online.
More about test prepration
Tutoring centers often specialize in tutoring or test prep classes for specific tests. The Princeton Review is a good example. But don't dive headfirst into an expensive program without doing your homework beforehand. What do students who have taken the course say about it? Who is the instructor? What are his or her qualifications?
A private test preparation tutor meets with you individually to go through test prep materials (which you will likely provide) and help you stay on track. Depending on the test, you might find a specialist. But it's a lot easier to find an SAT specialist than a CBEST specialist. When possible, look for a tutor who did very well on the same test you're preparing for. (If his SAT math scores weren't so hot, he won't be able to help you improve much.)
When working with a large organization, remember that your experience really boils down to your work with your teacher or tutor. Find a good fit and remember that you'll learn much better when you like and respect the person who's tutoring you.

Return from Kaplan Test Prep to Test Preparation.

Link to my page full of helpful tips for working with tutoring centers.

A news release from Kaplan Continuing Education. They're tweeting!